Okay, I'll get the ball rolling here
Some of the pics may be quite big!!


Mum & I had a very early Saturday morning start. My dad and brother had left the night before to go to Liverpool & the 2 of us had to be up at 5.40am as we had ordered a taxi to pick us up at 6am and get us to the airport. Eeeh.....I am not a morning person but the day's events made it so worthwhile
It didn't help that I decided to go and see

Harry Potter and the Goblet of Fire

the night before, not realising it lasted 2 + 1/2 hours which meant I didn't get home 'til after 11pm (it didn't start 'til 8.30pm)!! Anyhoo, we got the plane on time etc etc and were able to enjoy a beautiful sunrise as we came into Bristol (Paul's place of residence now, wouldn't ya know it?!). We got in around 8am or so (it was freezing in Bristol with a right fog!) and had to catch a train to Cardiff which didn't come 'til about 10am so we were hanging around the train station until then in the cold heheh. The journey to Cardiff was okay; at least it was warm lol and I dozed for a bit so don't remember much about that trip.

I got momentarily excited when we pulled into Cardiff station just after 11am on seeing the Millenium Stadium & remembering that there was a small scene filmed in the station for one of the episodes for the new

Doctor Who

series (

Boomtown

). I'm such a geek! :p We quickly headed for the ladies' where I got changed into my 8th Doctor costume, ready to see the man himself! We looked around for somewhere to leave our heavy bags so we didn't have to cart them round with us & we kept missing the turn for Wyndham Arcade - there's a lot of arcades in the town centre LMAO!! Eventually we realised that we'd been going the wrong way (as you do) and finally found the Comic Guru store. On arrival, I could just make out something silver with bright blue bumps and a familiar raspy voice.....


EX-TER-MIN-ATE!! This was an absolute treat to see; I had been thinking that it would have been really cool if one of these things was there but obviously never actually expected to see one! So mum and I came down the arcade (just where the tree is) and there were quite a few people there, (Pam, Suz and Sara included!) even some guys which I thought was weird, but then again nice to see that not all of Paul's fans are female!
One guy I noticed was dressed up as Marwood - his outfit was brilliant! - and it was he who got into the Dalek and began 'terrorising' members of the public at random! He had to screw off the top part of the thing and get into it via a stepladder. It also seemed to like singing and being rather naughty to people!
Then again, when are Daleks ever polite? :p




The Dalek also went up to the open door of the pub behind us there in the photo and began shouting random stuff in to the customers lol and some people were coming over to the windows to see what was going on! The cheeky thing even claimed after this was taken

"You will be hearing from my agent in the morning!"






We then got into the queue outside for the first signing. Infront of us was a man and his 12/13 or so year-old daughter who commented on my outfit
When we got to the door, the doorman also commented on it saying that I was the first one to come in costume and was amazed to hear that we'd come over from Belfast - they mustn't have had anyone else from here over.....He also said after getting the photo with the Dalek that it was kind of cool because it meant that the Eighth Doctor had finally 'come face to face with the Daleks' since he never got to do battle with them in the movie!

We were then allowed inside and were told that if we bought one of 2 Eighth Doctor adventure novels for £10, Paul would sign it and 2 other things for free & that it was all for charity. I picked one called

Fallen Gods

(written by Jonathan Blum & Kate Orman), and we made our way upstairs - as we did, Paul's voice just kind of surrounded us & that just added to the excitement, knowing that he was only a few yards away! We were able to leave our coats and bags with 2 lovely ladies at a table at the top of the stairs and we then joined the queue. Mum got a glimpse of Paul first and whispered to me excitedly "Linsey he's

gorgeous

!" LMAO! As we got into the queue, the man and his daughter from outside passed us and I saw that Paul had signed a Dalek calendar for her saying "

EX-TER-MIN-ATE!

" across the front.


I wasn't really listening to what all was being said as I was trying to stay out of sight until it was my turn to see him and get a better reaction to my outfit!
However I caught him saying to Heather, who was sitting with him at the table, that Sylvester McCoy's real first name was Kent - a bit of trivia for me! I waited until the guy in front left and until Paul seen me. Now from the back of the room Paul (to me) looked pretty much the same, but see when you're right up close to him...O.M.G. He is

sooooooo

attractive/handsome/stunning/gorgeous in the flesh!! As I walked up to the table when he did look up, I was expecting a 'hi, how are you?' or something; instead Paul leaned forward on the table, his eyes went straight to the top of my head & I was on the receiving end of

"Your hair looks fantastic!"

- I thought I was imagining things! Certainly wasn't expecting that! LMAO! (I'd my hair plaited the night before whilst still wet so it would have a nice wavvy effect since I dressed up as the Eighth Doctor and since Paul's wig in the movie is somewhat curly/wavvy and took it out just before we headed over to the CG) Heather recognised my accent and asked if I was was from Northern Ireland and I said Belfast. Paul asked

"When did you come? Did you come this morning?"

and I said that we had, yeah. Heather asked me what my name was and I told her & she introduced herself. Paul looked at us as if to say 'how do you know each other?' and asked if we'd spoken before and Heather explained that we'd emailed after I inquired about times, dates etc so she knew I was coming. He then asked me if we had to get up really early & when I said that we had to be at the airport for 6am, he sort made a 'hissing' noise through his teeth, you know like when you flinch, as if to say 'ooh that is early!'

I handed him my book & told him I'd spell my name out to him since it's one of the weird spellings and so he signed that. I asked him what charity he was representing and he said Steiner - an organization of schools that have teachers working for only about £60 a week - his kids went to one of those schools and we apparently have one over here in Northern Ireland. He said he really believed in the charity & asked if we were around for a few days and we told him what all we were doing.

We then attempted to get a photo or 2 but then the camera didn't flash - TYPICAL!! - and Paul joked that it didn't work! We tried the second pair and nothing happened so Paul said to the photographer man with the polaroid camera

"Right get a polaroid"

and said to me

"I'll buy you the polaroid"

:-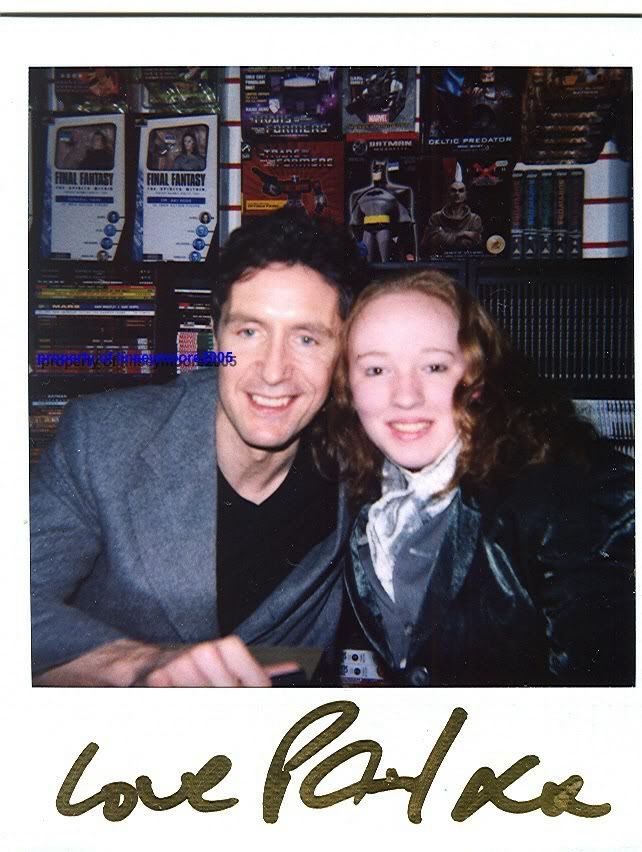 So this is the result and it has a special little place on my wall & sentimental value to me now because Paul bought it for me! Bless him!
He then waited until the picture developed and wrote

'Love Paul xx'

on it. I think then we said about knowing that he was going to be in the Forbidden Planet store later on and Heather said we could get some photos there too with Paul saying

"Yeah! Excellent!"

Mum said about us bringing 2 sets of batteries and none of them worked and as she said about us having to go and buy some newer ones, Paul giggled and said

"Buy some batteries!"

and giggled again - his giggle is adorable!
Then he said

"The Dalek's a bit quiet, eh?"

and giggled again when I said I thought it was amazing, terrorizing everybody downstairs! I think he signed the CD cover and the inside sleeve of the DVD as I said that and passed them back over to me saying

"There you are. See ya later. Good to meet ya! Bye!"

So off we went feeling very happy with the knowledge of seeing him again later on. I suppose in a way our batteries failing planned the rest of the day out for us and gave a good reason to see him in the afternoon LMAO! But it was lovely knowing that he and Heather told us to come back & were expecting us.



When we left the Comic Guru, we started walking back up the Arcade and suddenly heard

"RUN FOR YOUR LIFE!!"

behind us; the Dalek obviously hadn't forgotten about us hahah! The next signing wasn't until 3pm so we went for lunch & did a bit of browsing around the local shopping centre to pass the time.


Onto the Forbidden Planet photos then.....


There was NO ONE with him at the time mum & I went to see him second time round in Forbidden Planet We met Pam, Suz & Sara who I think had already been to see him, and also got chatting to pippinandmerry too. We got spending around 10 minutes with him, which was very lucky. As we came up the stairs, I seen Paul had his mobile out and he was looking at it and went

"YES!!"

- obviously getting the good news that Liverpool were 1 - 0 up. We were hovering near the tills trying to find a massive

Doctor Who

book I'd seen back here at home in Belfast, Paul was by himself. As we looked along the shelves for this thing, it was bringing us closer & closer towards the table where our man was sitting. All of a sudden I hear this lovely softly-spoken voice from over from my left saying

"Hi Linsey..."

- it was Paul! I turned around completely stunned and he was giving this big grin - it was very like the one in the picture below this one **, very 'welcoming':-



Paul was fantastic about the whole photo thing - he kept insisting we take more by waving his hand saying

"Take another one!!"

and going

"Aaah look at that!"

on seeing how they came out when we showed him them on the digital camera. I remember thinking how lovely he was being about the whole thing, having read that he apparently doesn't like getting his picture taken, so he seemed to contradict all that



**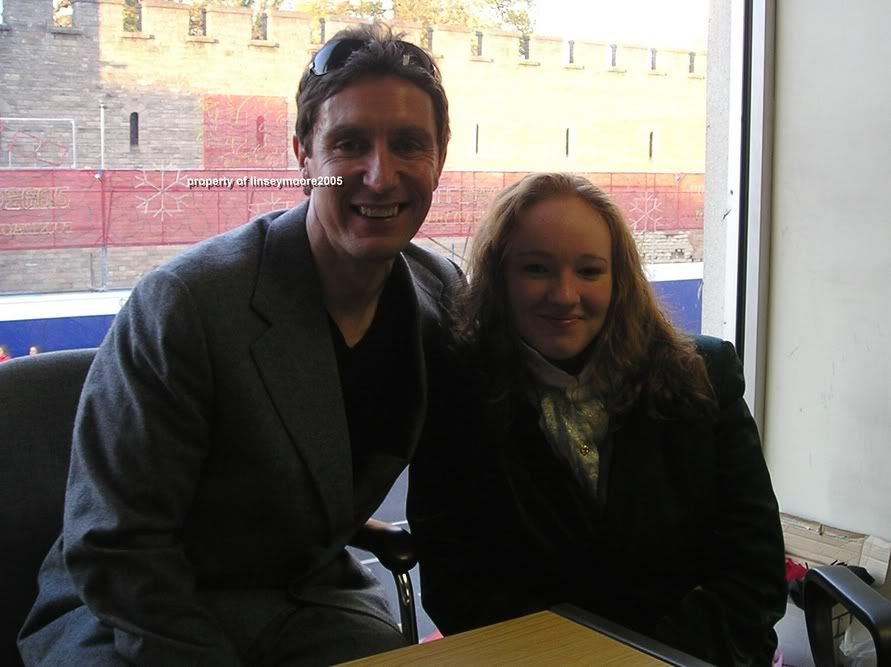 Lol Paul said something funny just as the camera flashed which would explain both our facial expressions there.
Can't remember now what it was though...

*headdesk*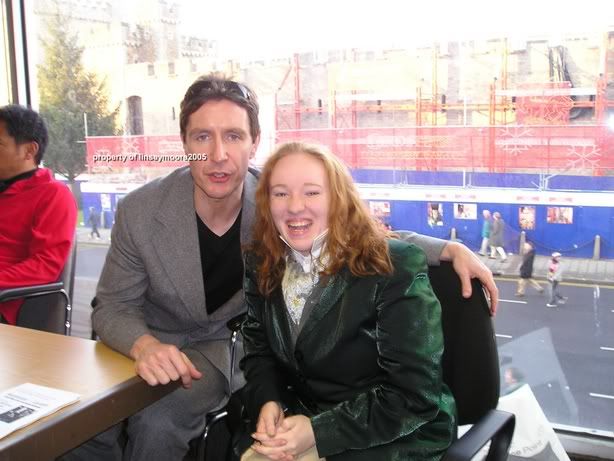 There's just something about that cheeky grin....

*THUD*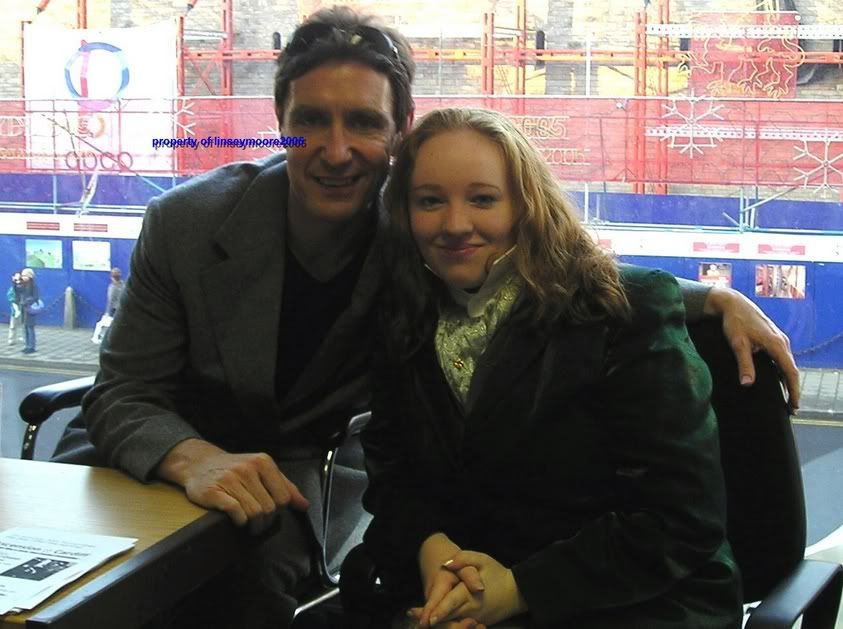 Me thanking Paul again about the whole polaroid thing - and Von at the side there too hehe.




I love how his face looks so relaxed here - the man has a very genuine smile
He didn't actually sign that book by the way; hee hee we asked him if he would mind posing and pretend to sign it!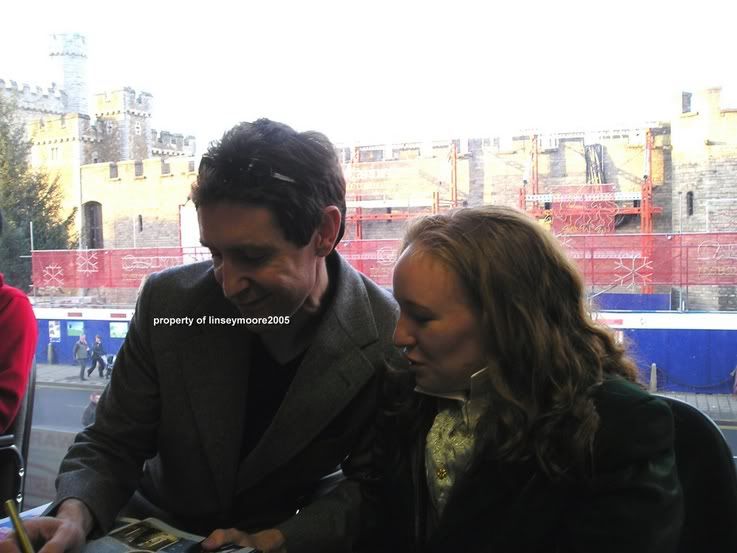 My fave of the bunch - RAWR!!



At this stage Paul mentioned that he was flying out to Belfast 2 weeks after this as he was staying with his

"artist friend in Downpatrick

(a little town about 30 miles from Belfast)

"

so obviously he'd been before. Mum and I looked at each after he'd said the word 'artist' lol - she later said that I should draw him and send it off to him & we joked about trying to get him to pose for me for a portrait!! Paul was then asking us the most random things like which was the better airline for cheap flights -

Flybe

or

EasyJet

? LMAO! He said that he enjoyed coming to Belfast because

"it's like going home. It's just the same as going home"

with mum saying that the Irish and the Liverpudlians share the same sense of humour/good fun - if you're from Northern Ireland, we call having a good time 'craic' (pronounced crack).


My dad was in Liverpool at the football match the same day and we mentioned that to Paul and he grinned and said

"Oh really? What's he doing?"

I said that he was at that match and Paul's eyes lit up and

"Oh is he at the match? They're winnin' 1- 0; I just checked!"

Mum & I were like

"Aaaw NO!"

and Paul gave us a look of mock horror as if to say 'how dare you'!! Mum then said

"Talk about a mixed marriage; I support Utd and he's a Liverpool supporter"

- Paul's reaction was priceless; "

WHAT?!?!

That is a mixed marriage! That is the most mixed marriage you can think of, nevermind anything else!" I then said

"the boys are Liverpool supporters and we're Man U ones"

. Paul looked at me, saying

"You're a Man U supporter?"

& I said yeah. Then he looked at mum who had the digital camera and made a grab for it -

"Give 'us them photos! Give us, give 'us, give 'us that back!"

(cue much laughter from mum and I!); all in good jest of course! He pretended like he was going to delete them all off it, but then of course almost right away he handed it back to mum LMAO.

Him and mum then talked a bit about football - mainly about Manchester United's management - I just sat beside him listening quite happily lol! I asked him if he'd any projects coming up and he said that everything had stopped until April, that he was doing a bit of voiceover work at present -

"it's great...no one sees your face! You can wear your own clothes! It's really lucrative...and it puts bread on the table so..."

He also said that he'd done some TV work during the summer and I said that they were meant to be showing the stuff in the autumn but never seen any mentions of them in the TV mags each week. He said that he'd done something with Sarah Parish (I don't if he was talking about

Sleeping Murder

or

If I Had You

) that they kept putting back

"...which usually means it isn't very good...but we'll see"

and said that sometimes you make things terrible

"...and you don't even want your mates to watch it"

. When he said the word 'mates', you can hear the slight Scouse accent. ;)But he said that's it's work and praised Sarah saying

"she's great, Sarah Parish"

so aaaw!


Paul asked us what we were going to do for the rest of the day and we explained we needed to get back up to Wolverhampton because we were getting free accomodation with my mum's cousins who live there lol. We'd flown into Bristol that morning and getting up to Wolverhampton was going to cost us a right wee bit since the train prices were rather expensive & we didn't get advanced booking etc and Paul replied

"I shoulda known, I'd have given youse a lift; I drove from there this morning! That's where my house is, that's where my kids are, based in Bristol!"

LMAO! Mum said to me

"That would've made your day!"

(me thinking

"Oh YEAH!"
) Then he said did we have to go back to Bristol now and we were like no, gotta get up to Wolverhampton (I always wonder what would've happened if we'd have said yes? Would that offer still have been open? lol). Paul told us that a few days before someone had mentioned to him that Wolverhampton was the first place in the British Isles to be wi-fied - internet connection everywhere -

"I think that's kinda cool! But yet that's what it should be like everywhere!"


Then we moved onto the subject of hair. He finished talking and turned and looked at me, saying

"So where's your hair from? Who in the family's got your hair?"

I said I got it from my dad and Paul said

"It's a wonderful colour"

and I just sort of gave this embarrassed giggle. Paul probably thought I wasn't taking him seriously because he went to say

"Yeah it's a beautiful colour! When I was at school I had a couple of mates ya know...and I was really jealous because they had this beautiful hair. With your colouring ya know, it's beautiful with your skin...Exquisite isn't it?"

. He corrected himself by saying "...or

ex

-quisite as my mum keeps telling me to say." I said that I thought he'd beautiful hair, particularly when it was grown out in

The Hanging Gale

and I think he said about his brothers all having their hair grown out in that programme. He said

"I used to love havin' me hair long but there comes a point you know where, I mean I'm 46, you can't have it long forever...it gets a little bit 'sad' you know what I mean? When you work as an actor you're hair's not your own anyway

(very true).

I don't think I've paid for a haircut for about 15 years

(!!)

because whatever job you're doing they cut you hair off."



We then got into a pose for the last photograph (see below) with Paul saying to me

"My son's got that same hair; that long wavvy hair"

. Hee hee excuse the bad pic there! I think I was

very

,

very

close to becoming goo on the floor since his face was so close to mine :p When I stood up to shake his hand and thank him, he suddenly leaned forward and before I knew it, he was giving me a kiss on each cheek... and wishing us a

"...safe journey back"

and

"Until we meet again"

. I thought I was going to spontaneously combust lol! I'm surprised I even made it home! I thought I would turn into a puddle at any minute and it was so sudden as well that my mum didn't even get the chance to photograph the moment and I suddenly thought to myself

"He's kissing your cheeks! Do it back!"

! She said later that he had his eyes closed as he kissed me and also said

"Did you not just want to grab onto him?"

and I'm like

"Oh. Yes. And not let go!"
As if she needed to ask that!

*rolls eyes*

Also, it is it just me or does Paul look a little bit like Mark in the photo? At least that was my first thought when I saw it...




Whilst we thanked him and picked up our stuff off the floor near the table, Heather came back from wherever she'd gone off to, saying that she hoped to be seeing everyone's photos up on the McGann Library, how much of a sweetheart Paul was and that doing the whole event thing/being in charge was

"...like being the owner!"
I think Paul then received a text message saying that Liverpool had won 3 - 0 (boo! hiss! :p) which he told us with understandably, great delight, stating

"No hard feelings!"

Mum replied,

"None taken - let's just hope Man Utd finish above Liverpool in the League!"

Paul put his hands on the table, said

"Right..."

and stood up as if to chase the 2 of us out of the place LMAO. He finished by saying

"They won't!"
Hee!! See, it's stuff like that which makes him so down-to-earth and just, 'normal', messing about with the fans! You know what I mean!
The day couldn't have gone better.





And the other signed goodies.....

My 1st

Doctor Who

audio CD which I wanted Paul to sign since it was the first of his (and indeed the first

Doctor Who

audio in general) and my fave:-




The inside sleeve for the movie in the DVD case which Paul opened himself and took out
:-




And the Eighth Doctor adventure book I picked (

Fallen Gods

) which Paul signed for me inside the cover
:-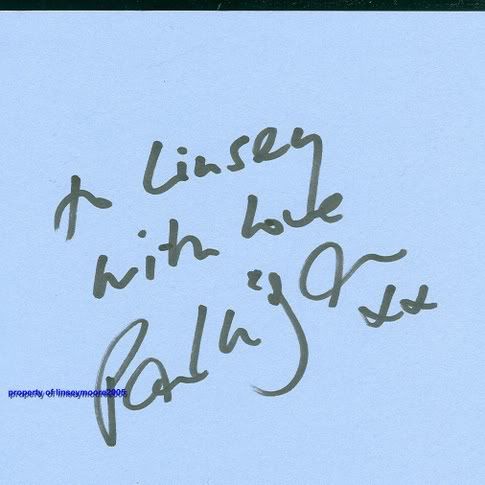 It's nice to have something personalized!

*wink*

And Paul has such lovely handwriting...




So, over all it was a fantastic day and I hope every Paul fan will get the chance to meet him in person - it is a fantastic experience!!



Linz
xxx
_________________



Avatar courtesy of Desdemona